For some people, a party involves dancing and loud music. For others, it may mean singing karaoke. JBL's PartyBox 110 is an all-in-one Bluetooth speaker that can accommodate both of those types of gatherings and everything in between.
The PartyBox 110 is the latest offering from the company in this speaker class. It's loud enough to power nearly any home get-together and probably capable of bumping music to a large group in a rented hall. The two woofers and two tweeters can output 160 watts of power. On the back, there are multiple inputs for an instrument and a microphone. Plus the speaker is water-resistant and offers a few other tricks up its sleeve.
While the average person looking to buy a general-purpose Bluetooth speaker might not want one this large, the PartyBox 110 is surprisingly versatile, with good outdoor performance and an ability to power karaoke parties.
TL;DR
Pros:
Multiple microphone inputs
Loud, even in an outdoor setting
Long battery life and fast recharge time
Cons:
PartyBox app can be flaky
Offers only minimal upgrades over the PartyBox 100
Buy at JBL.
PartyBox 110 Is a Prosumer Bluetooth Speaker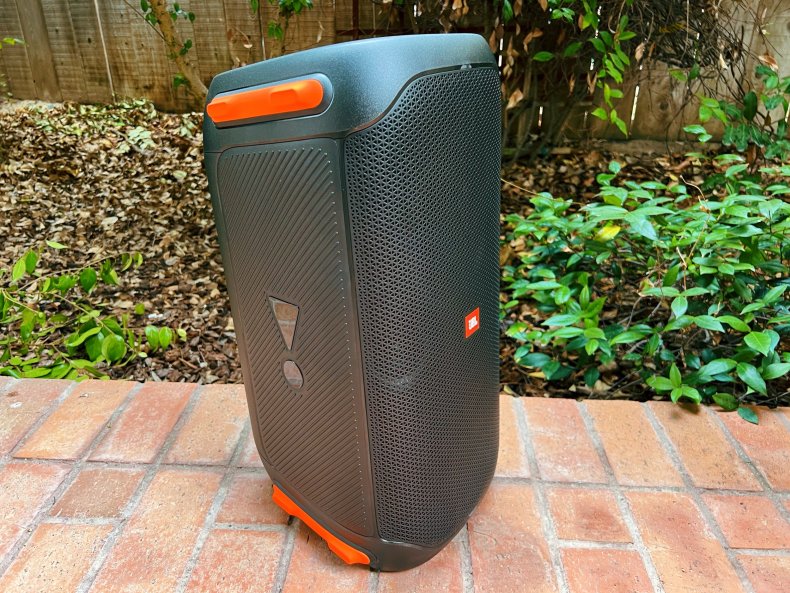 JBL describes the PartyBox 110 as having pro sound. I'd say it's more within the realm of prosumer than professional, unless professional simply means something you might want to claim on your taxes.
Are you an enthusiast DJ playing parties? Do you host large backyard events? Do any of your hobbies need a public-address system? The size of the PartyBox 110 is substantial—measuring nearly 2 feet tall and 1 foot wide, with a weight of around 25 pounds. There are plenty of speakers that can get loud and come in a much smaller footprint.
On top of the size and sound, there are features that make this an appealing speaker for events. The back of the PartyBox 110 has two quarter-inch inputs that can be used for an instrument and microphone or two microphones. The front includes flashing lights that move to the sound. The speaker is IPX4 water-resistant, thanks to a rubber back-port cover. Plus there's an auxiliary input, and the speaker supports JBL's ability to pair it with other PartyBox speakers.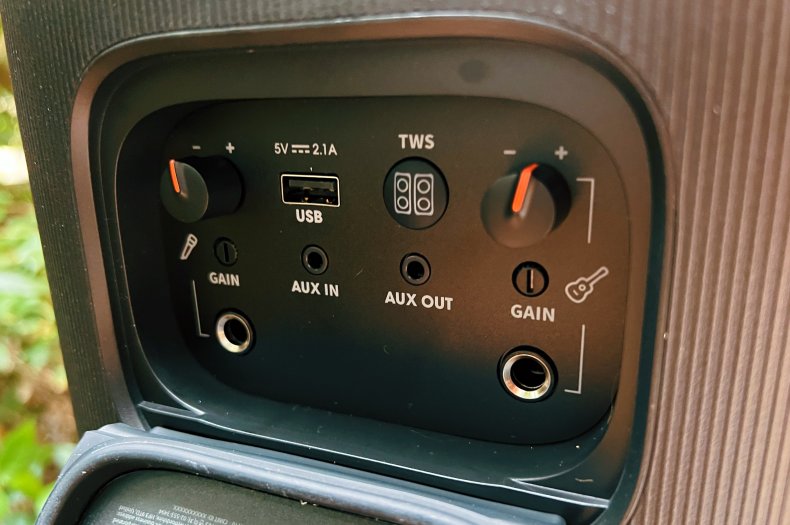 The speaker retails right around $400. Although that's a price a lot of general consumers may balk at, any other decent outdoor speaker will set you back at least $300.
PartyBox 110 Sound and App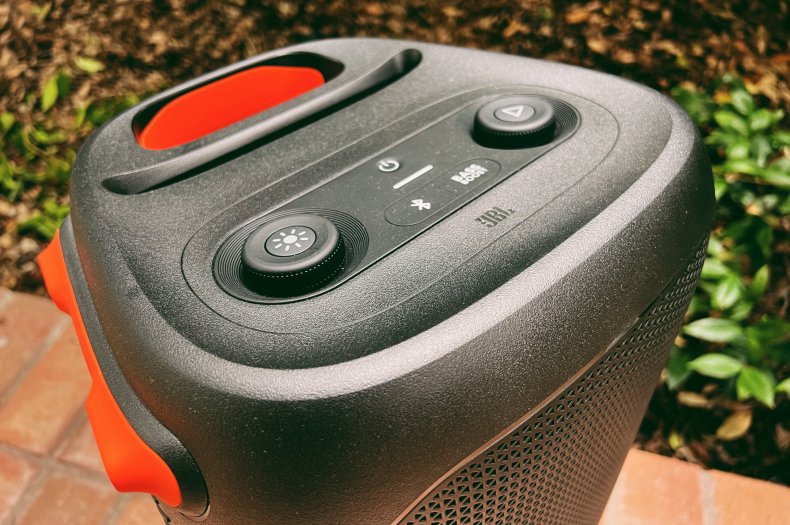 JBL makes a PartyBox app that works with the range of its PartyBox line of speakers. Most of the settings and features the app handles can also be done on the top of the speaker via physical controls. The app does allow for some unique features such as playing "DJ effects." These are audio clips a few seconds long of sounds like horn, clapping, record scratching and booing. These can be laid on top of whatever the speaker is playing. I found the sounds to be gimmicky, but their inclusion doesn't hurt.
The app also has a visual interface for selecting the pattern and color of the lights on the front of the speaker. The other way to change the lights is to spin the knob on top of the speaker.
Personally, my experience with the PartyBox app was very flaky. Despite never skipping a beat with the wireless music it was playing, the app would be searching constantly for the speaker. I updated the firmware, but the app connection remained inconsistent. I looked through App Store reviews of the app, but nobody called out this problem specifically. It's annoying, to be sure, but this is something that appears to be fixable through any of the future app updates. Plus, it doesn't restrict much, if any, functionality.
The speaker gets plenty loud. Somewhere around the 40 to 50 percent volume mark is as loud as it would ever need to go when it comes to listening to music inside the home. Comfortable listening in a decent size living room is around a 25 percent volume. Outdoors the speaker can be unleashed.
There are two 5.25-inch woofers and two 2.25-inch tweeters here. The PartyBox 110 is capable of 160 watts of output power. The speaker's clarity is certainly respectable, but immaculate clarity is not the reason to buy this speaker. The important aspects here are that there is no distortion, even at high volumes, and there is enough robust bass to satisfy partygoers.
There's no EQ setting available, but JBL does provide three different bass settings. Turning Bass Boost off sounds fine until you've heard music with Bass 1 turned on. Most styles of music from acoustic to rock to hip-hop to R&B will enjoy the benefits of Bass 1. There's more low-end resonance with the setting. Bass 2 is much harsher. It sounds like it's tuned for EDM and dance music, to accentuate digital bass sounds, and it gives off more of a thud than Bass 1.
PartyBox 110 Karaoke
While there's no EQ for music playing on the speaker, there are a few adjustments for the microphone inputs. You can raise and lower the bass and treble for the inputs, as well as add echo. Adding echo, reverb or chorus effects are basic but easy ways to help provide some assistance for singing live.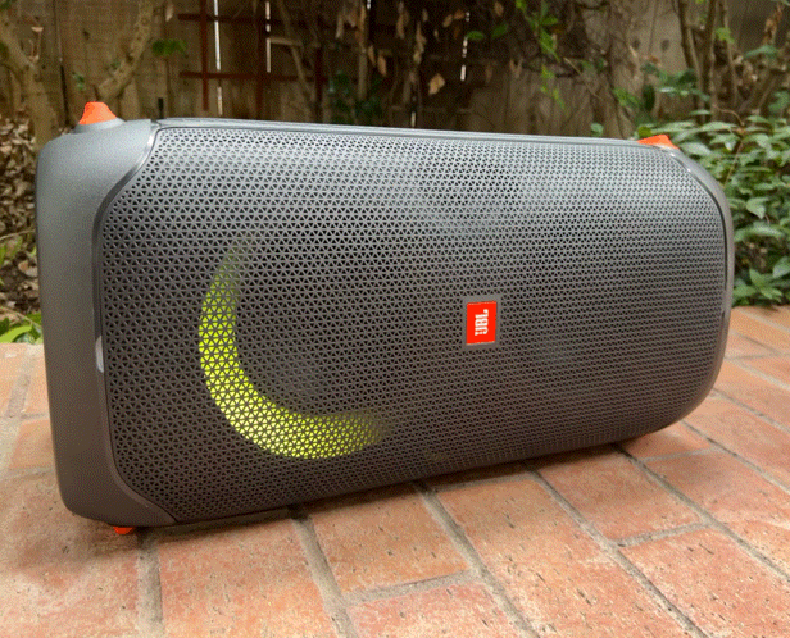 While it's well-positioned to be a karaoke machine, it should be noted that there is no specific karaoke software or anything like that for the PartyBox 110. You'll need to get your own microphones and figure out how you want to play the music and display the lyrics. There is a cutout slot behind the top controls on the speaker that can hold an 11-inch iPad Pro, iPad Air, iPad or iPad mini. My 11-inch iPad Pro did technically fit without a case, but the curved sides of the slot made it seem less secure than for other narrower tablets. I would be hesitant to use the 11-inch pro model anywhere except on top of carpeted flooring.
Should You Buy the JBL PartyBox 110?
The PartyBox 110 is a terrific Bluetooth speaker, but it really is aimed at people hosting some kind of gathering. It's a perfect prosumer type of all-in-one device. On the flip side, it is big and heavy, so if you only ever listen solo, there's very little point in using this instead of something else.
There are other speakers out there that address the same enthusiast market. There's even the $299 JBL PartyBox 100, which is only minimally different from the 110. (Seriously, the primary differences are that the 110 has a slightly higher frequency response, a faster battery recharge time and is splash resistant.)
Anyone set on the specific features that the PartyBox 110 offers should be satisfied. But even across JBL's own line of speakers, there may be a way to get the same inputs and volume at a cheaper price.
Buy at JBL for $399.95.
Newsweek may earn a commission from links on this page, but we only recommend products we back. We participate in various affiliate marketing programs, which means we may get paid commissions on editorially chosen products purchased through our links to retailer sites.