A large fire has broken out at South Africa's parliament building, sending plumes of thick smoke over central Cape Town.
About three dozen firefighters began battling the blaze about 5 a.m. local time on Sunday (10 p.m. Saturday, ET) after the flames were spotted by security guards, officials said.
Smoke was seen billowing out the roof of the Houses of Parliament building from about 7:30 a.m. (12:30 a.m. ET).
The building is home to South Africa's National Assembly, which consists of 400 elected members. No one has been injured in the fire, fire officials said.
"The roof has caught fire and the National Assembly building is also on fire," a spokesperson for the city's emergency services told AFP.
JP Smith, the mayoral committee member for safety and security, told local outlet TimesLive: "The fire has not been contained and reports of cracks in some walls of the building have been confirmed."
The blaze began on third-floor offices and spread to the National Assembly chamber, City of Cape Town fire and rescue service spokesperson Jermaine Carelse told reporters.
Videos posted on social media showed flames rising out of the building's roof.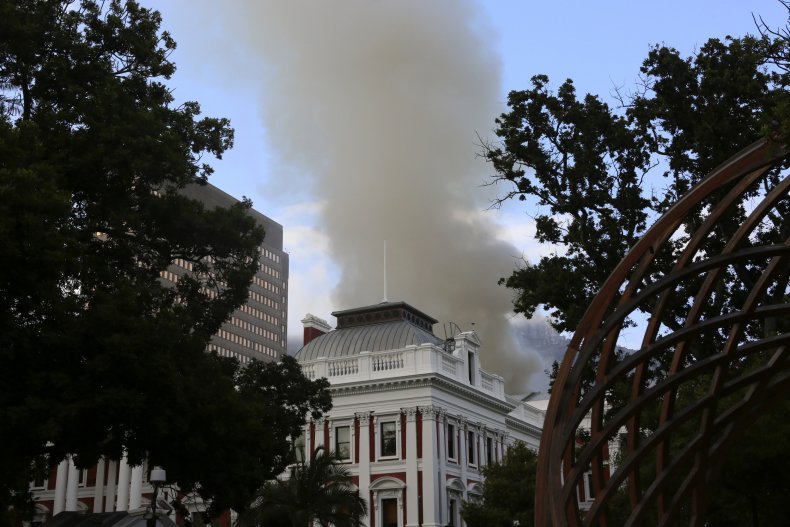 Other footage showed smoke rising from downtown Cape Town.
It was not immediately clear what had caused the fire.
The building consists of three sections, according to Agence France-Presse. The original building was completed in 1884, with more recent additions added in the 1920s and 1980s.