Stacey Abrams on Sunday hit back against political opponents following criticism of a photo-op in which she appeared maskless with a group of masked schoolkids.
The pictures gained widespread attention on Friday night when Abrams retweeted a post from a principal in Decatur, Georgia. In the photos, Abrams appears unmasked alongside masked students and staff, despite the school's mandate.
Despite the principal and Abrams deleting their tweets, the pictures soon began to circulate online and drew heat from conservative politicians and pundits. Republican Georgia Governor Brian Kemp accused her of flip-flopping on her support of mask mandates "when she's attending a photo-op."
"Where is Stacey's mask?" the campaign for David Perdue, another of Abrams' 2022 opponents, said in a statement. "We all know Stacey Abrams' hypocrisy knows no bounds."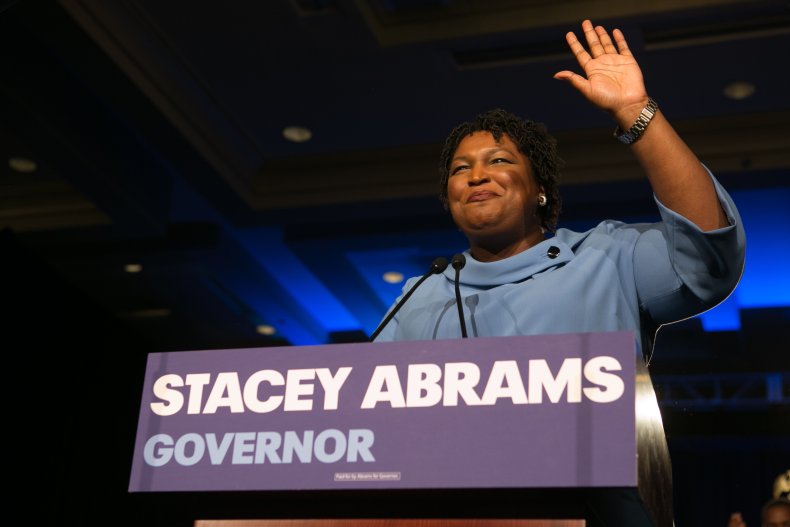 Abrams, a veteran politician credited by many for helping secure Georgia for Joe Biden in the 2020 presidential election, is currently running against Kemp in Georgia's 2022 gubernatorial race. She previously lost to Kemp in 2018, when she became the first African-American woman nominated for governor by a major U.S. political party.
"Stacey Abrams wants state government mask mandates for Georgians and their children," Tate Mitchell, press secretary for Kemp's 2022 reelection campaign, told Newsweek in a statement. "But it looks like they wouldn't apply when she's attending a photo-op. This kind of hypocrisy is exactly why Georgians see her campaign for governor for what it truly is: a quest for more power. Governor Kemp will continue fighting to put students and parents first."
In an Instagram post from Sunday, Abrams' campaign hit back against the criticism, calling them a "false political attack" while also taking the opportunity to highlight some of her opponents' alleged shortcomings.
"It is shameful that our opponents are using a Black History Month reading event for Georgia children as the impetus for a false political attack," the statement read. "And it is pitiful and predictable that our opponents continue to look for opportunities to distract from their failed records when it comes to protecting public health during the pandemic."
The statement continued, "One of Stacey's opponents downplayed the virus while trading stock to profit off the pandemic after his private coronavirus briefings as a Senator. Another of her opponents attacked mayors seeking to protect their citizens and has failed to expand access to Medicaid even as rural hospitals close. This pathetic, transparent and silly attack is beneath anyone who claims he wants to lead Georgia."
The statement references Perdue, the former Republican senator accused of conducting insider trading after a closed Senate meeting about the early days of the global COVID-19 outbreak. Perdue previously lost his seat to Jon Ossoff in the January 2021 runoff election that secured the U.S. Senate for Democrats.
Abrams' specific stance on mask mandates in schools is unknown at this time. She has, however, previously spoken out against Kemp's 2020 mandate that blocked city-wide mask mandates, which was noted by Forbes.